Jeff Michaelson, Chief Labor Negotiator and Board President
The APDSE filed it's first grievance against Disability Community Resource Center (DCRC) on August 8th, 2019, demanding that DCRC provide Persons With Disabilities (PWD's) the critical representation they require before the Social Security Administration, the Department of Social Services, California Department of Social Services (CDSS), Medi-cal, In Home Support Services Fair Hearings, and other critical services. It has been more than four (4) years since DCRC, formerly known as WCIL, has provided PWD's representation for the Social Security Administration, Department of Social Services (DPSS), Center for Medicade/Medicare, a dedicated /housing Specialist who has expertise with respect to Public Housing authorities, Rent Control, the Fair Employment and Housing Act and unlawful detainer assistant services.
Since the Association of Disabled Services Employees was certified as the collective bargaining representative for DCRC employees who provided advocacy at the Social Security Administration (SSA), California Department of Social Services, and a housing specialist, benefits counselor and other critical services, the former CEO and Chief Labor Representative at DCRC, Anastasia Bacigalupo, https://www.linkedin.com/in/anastasiabacigalupo/, terminated these critical services for DCRC Client Members. The Labor Board determined that a majority of these terminations were unlawfully motivated by anti union animus by DCRC. However, it is the position of the APDSE that DCRC is continuing their anti union animus because the Bargaining Unit Positions for Advocates have remained vacant for approximately 3 years. Is it critical to take notice that the Collective Bargaining Positions were provided by employees of WCIL to PWD's for 30 years prior to the formation and certification of the APDSE as Collective Bargaining Representative. In other words, DCRC has chosen to penalize PWD's by discontinuing these services because DCRC maintains an anti employee and union position.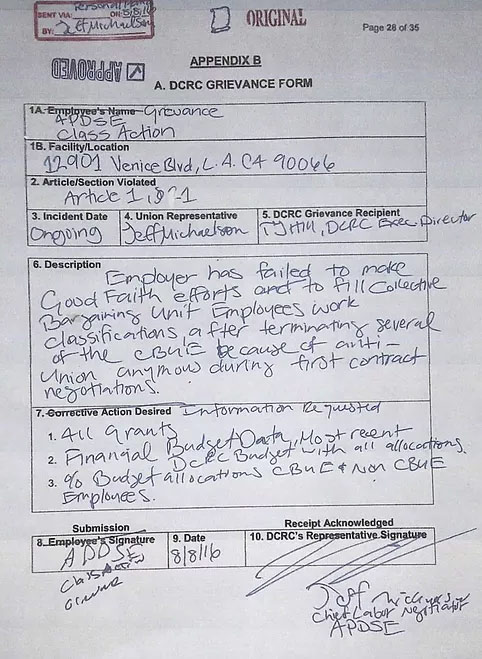 With this said, DCRC has sacrificed the needs of PWD's to benefit their pro-management agenda at the expense of both DCRC employees and clients. The APDSE will not tolerate DCRC's attempt to force CBU Members who already have unreasonable workloads from the requirement that employees also provide services that are not within their expertise. For example, a Job Developer shall not be required to also provide SSA Hearing representation, nor should the Personal Assistant Services Specialist be required to provide Housing Services in addition to IHSS. The message is resoundingly clear that PWD's want tand require zealous advocacy when facing the SSA, CDSS, PHA's, Medical Insurance. Instead what they are actually doing which is Make a Friend Day, Violin Lessons, Social Events, Refreshments, Face Painting, and Expos. When your Social Security Benefits have been terminated, you have been evicted from your home, your insurance company will not provide you tithe the medication you need, your employer retaliates because of a request for accommodation, your child is refused Special Education Accommodations, PWD's and the employees who represent then have resoundingly stated that what they really want and need are zealous advocates.
The APDSE has filled the Grievance on behalf of the Employees and to expand the services that PWD's need.
DCRC.CO
In Solidarity With Much Respect,
Jeff Michaelson
Chief Labor Negotiator/ Board President
APDSE